Corporate Events Catering Services
Did you know that the average American spends 90,000 hours at work over their lifetime? Now consider that most people eat three meals a day. So it's probably fair to say that every team member eats one if not two meals every workday in the office. Your team eats approximately 260 meals, if ten staff members did the same, that's 2600 opportunities to share a meal and bond as a team—but we'll get to those benefits soon.
Food is the ultimate connector. Everyone has to eat. So why not break from routine once in a while and eat together as a team or company? Eating brown-bagged lunches alone at your desk is okay if you have a tight deadline. Still, research shows that too many people spend too much time alone at their desks and do not get enough social or outside time.
Eating together as a team improves communication among colleagues, strengthens relationships, builds trust and camaraderie, increases happiness and job satisfaction and boosts productivity after having a real break. The positive effects of eating together have become so apparent that leading organizations like Google, for example, make it a priority.
So if you want to:
boost morale and productivity at Monday morning meetings
celebrate a team win
you're on a deadline and everyone is working overtime
you're having a lunch & learn
impress potential clients or investors
it's holiday party season
you want to wish a valued team member best wishes in their retirement
Chef Bob's Catering has the knowledge and experience to cater corporate events. Our corporate catering can add extra details to each serving at your business event. From beautifully designed plates to how the food is displayed and served, the business event is likely to be successful thanks to the help of Chef Bob.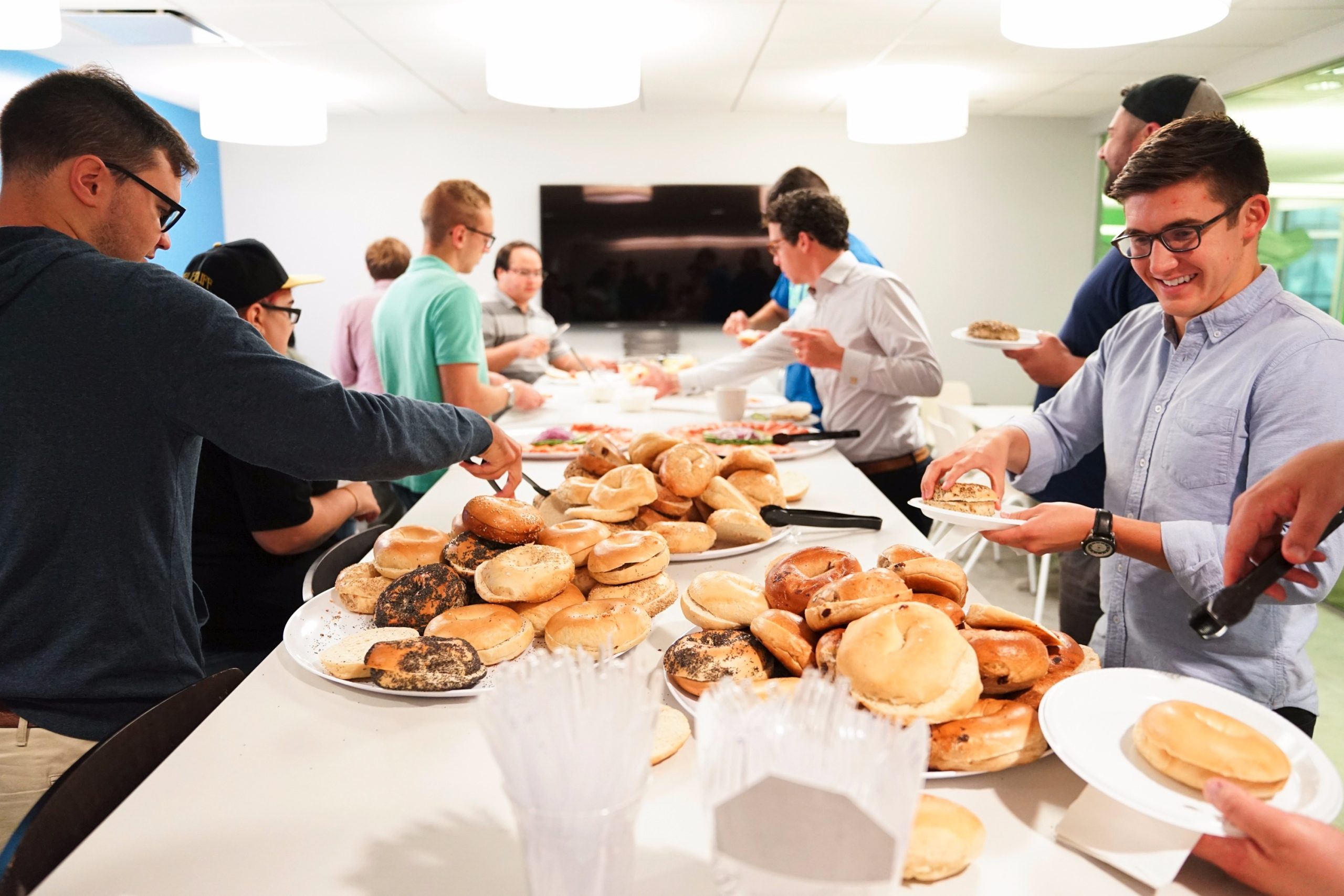 It's no secret that food makes people happy. So, bringing in a delicious office breakfast can start the day off on a positive note. Not only will it make your team feel energized for the workday, but it will increase employee happiness and satisfaction.
Providing breakfast for the office conveys to employees that their well-being matters to you. In a world where our lives feel like they're moving a thousand miles a minute, a gesture like breakfast can show your office that you truly care.
Breakfast is a pretty versatile meal; simple doesn't have to mean boring. There's a lot of room to play around with options. Have employees with a sweet tooth? Add some fruity Danishes or chocolate chip pancakes. Dedicated gym goers that break a sweat before work? Try a fresh omelet buffet. What about those people who wake up with a small appetite? Offer some bagels or donuts. Whatever you do, just don't forget the coffee.
It's hard to go wrong with a Chef Bob catered breakfast for the office. It's a great way to show appreciation for your employees, and you can almost guarantee that people will be hungry.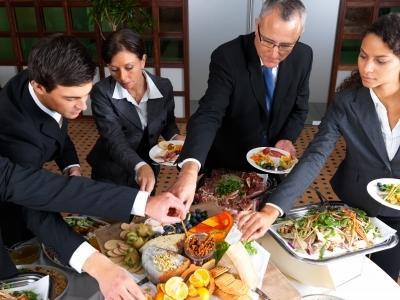 If you're trying to win employee approval and boost morale too, showing employees that they're valued is the best way to do so. One easy way to boost that is by putting on a great business lunch.
Employees are often lonely at work and that's a huge problem. Odds are good that they're eating alone at their desk. What's a better way to ensure that people socialize with each other and forge relationships than a good meal? Invite everyone to leave their desks behind and dine together, providing a break from their desks. Eating lunch as a team can help staff and management bond.
With a Chef Bob office lunch, employees don't have to spend time making it, giving them more free time at home. Chef Bob's Catering has Riverbend business needs covered with a range of hot and cold prepared food and a wide array of deli sandwich platters to choose from. Whether you're putting on a spread for visiting business guests or providing healthy yet exciting working lunches will turn you into their favorite boss!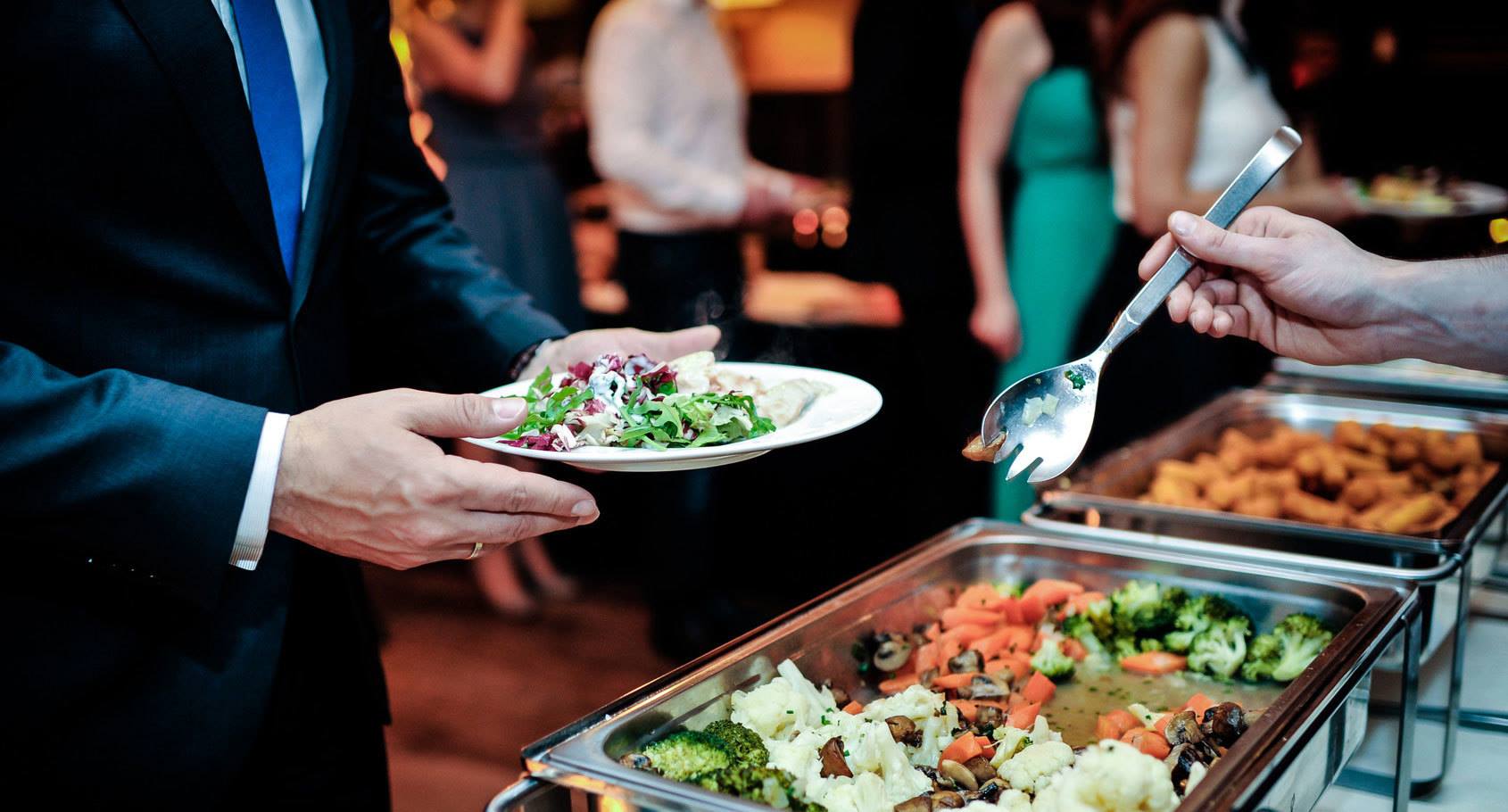 You have a lot of people relying on you to throw a corporate event that goes off without a hitch. Come to Chef Bob when you're hosting anything from a professional conference to a classy fundraiser or banquet.
Corporate events and seminars allow work colleagues to interact with each other aside from what they normally do at work. For your corporate event or conference to live up to its potential and entice everyone, you want to have it catered to accommodate your guests' needs. For an event to run successfully, you need a menu that will appease even the most discerning palates. That's why having a menu with a wide range of tastes and flavors is necessary. Offering various meal options, including vegetarian options, ensures no one is left disappointed by the selection.
Chef Bob's Catering knows that we are representing your company and brand, and we don't take that responsibility lightly. We are very passionate about providing your guests with an unforgettable event while also providing you with a stress-free experience. The professionalism and attention to detail you get with Chef Bob's Catering is something that will shine through and be remembered by your attendees long afterward.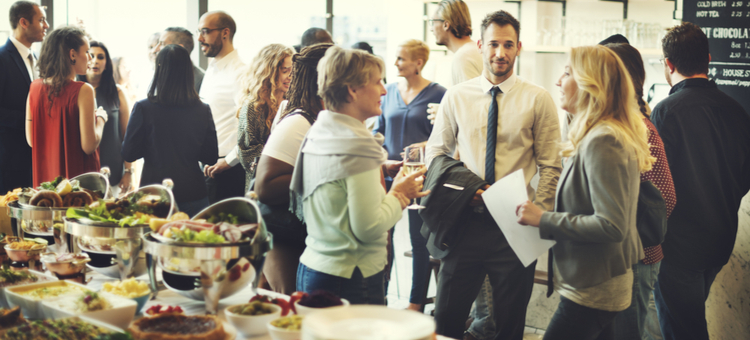 Whether meeting with potential customers and clients, celebrating company milestones, or just socializing with your team, Chef Bob makes everyone's day better, and your business stands out.
So when should you have food catered to your office? Generally speaking, the times you order food should coincide with the most important events in your business. Impress potential customers and clients and help you stand out. Corporate events and catering often go hand-in-hand. A surefire way to impress potential customers and clients and help you stand out is by providing food for them, especially if the meeting happens to be around lunchtime. It reflects well on your business when you know how to play host, especially when meeting with someone important, like a potential client.
Special events and office get-togethers are more important than ever. People are slowly starting to return to office life safely for the first time since the COVID-19 Pandemic. Unfortunately, what used to be everyday social interaction in the office transformed into online meetings via Zoom or phone calls, creating a massive sense of loneliness. It was enough to take a toll on anybody, especially employees. We were suddenly stripped away of social interaction and had to adapt to life without it. Providing food in your office will allow employees to interact and build new connections, improving communication and trust in the workplace.
Providing food in the form of catered meals at work can help ease the transition back to the office and thank workers for their efforts. The key is understanding that when you play the role of host, any large gathering of people that requires an investment of time on their end should require an investment of great food. Plus, you won't have to worry about the cleanup.
Bottom line, good office catering from Chef Bob's is like social glue, making it especially advantageous when trying to break the ice with a potential customer.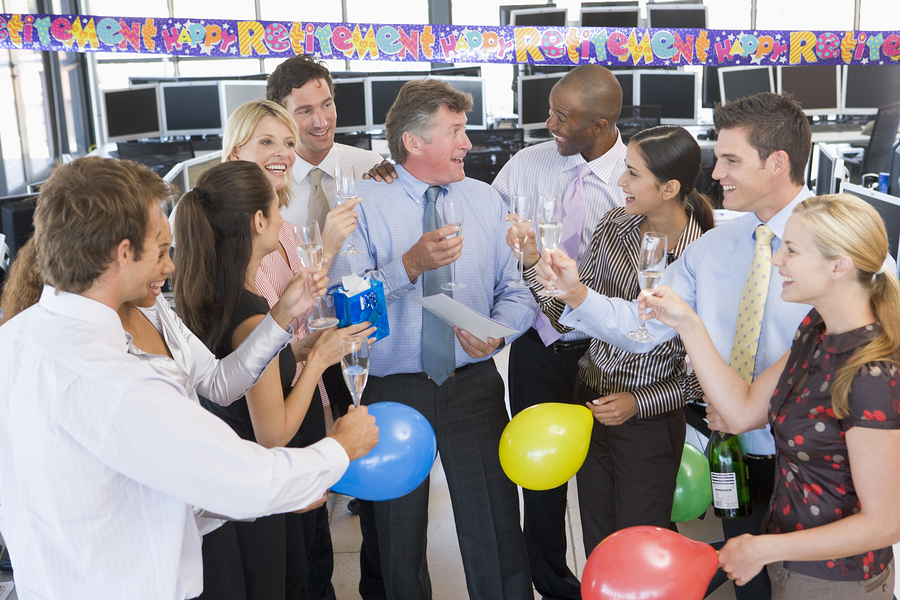 A retirement party is a great way to let a coworker know how much they were valued by the office team and just how much they will be missed. Before you throw them a bash, make sure to have a party catered by Chef Bob.
Loyal employees devote years of service to their companies and develop relationships with coworkers and managers. A significant turning point in that person's life is when a team member retires. Retiring is a goal that people look forward to for years and is a cause for celebration. Employers and coworkers want to thank the person retiring for service to the company and wish them all the best in the coming years.
If one of your employees plans to retire soon, you should throw a party to say thank you and show how much you and the other employees care. A retirement party can be a casual breakfast or lunch where employees can gather to enjoy delicious food and share funny stories and words of encouragement.
Retirement is an exciting time and certainly a reason to celebrate. Chef Bob's Catering knows the basics of retirement party planning and can help you throw a bash that will always be remembered.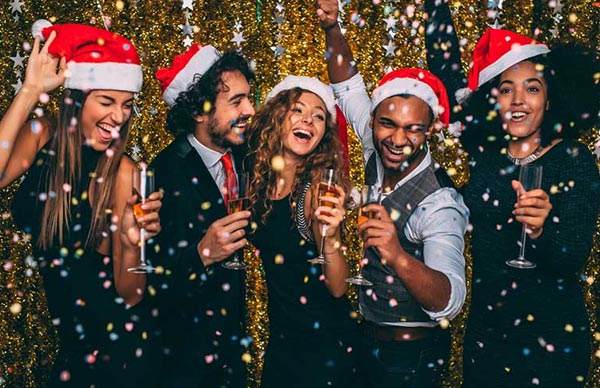 It is a festive time of year to gather with family, friends, and your work team to celebrate and spend time together. Catering your holiday party will allow you to do more of that.
You may think that birthdays stop being a big deal after a certain age, but that's only true if you let them stop being a special event worth being celebrated!
Get excited about your birthday this year and go all out by investing in the big event. Don't just wait until the last minute, see what the day may bring, and "wing" it. It's your special day and you deserve to enjoy it.
The soul of every occasion, be it a birthday party, a wedding, or a graduation, is perfectly cooked food giving the guests and hosts a chance to socialize and mingle and have a good time. Also, flawless food is the perfect way of creating a great first impression in the minds of your guests and making the event memorable. Guests tend to remember the event only if the food being served is of good quality and is lip-smacking.
You have enough to worry about for the big celebration, and the best thing you can do to have fun yourself is leave the cooking to Chef Bob.